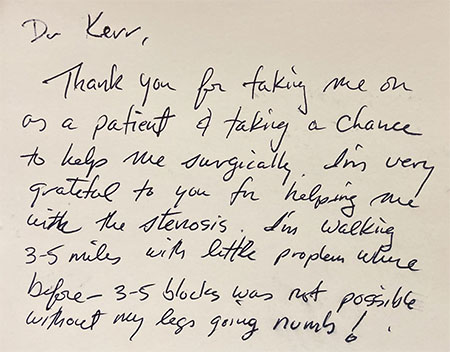 ~ Dan ~

I'm a 47 year old male and had been suffering shoulder pain and left arm weakness caused by a herniated disc in my neck. This was limiting my ability to maintain the active lifestyle I enjoy. After consulting with Dr. Kerr and having all of my questions answered, disc replacement surgery was p...

~ Erica ~

I was having pain in my lower left leg for over 6 months. It was a constant dull, aching pain that only copious amounts of ibuprofen could solve. I was referred to Dr. Kerr from one of his colleagues, as they thought it might have been a spinal issue I was dealing with. Dr. Kerr listened to my...

~ Doris N ~

In June of 2020, I saw Dr. Kerr in Seattle to address the chronic pain in my back which was likely the result of a fall from a ladder that occurred years before when I broke my collar bone and back. Making that appointment was without doubt, one of the best decisions I have ever made!

Write a review
If you're interested in submitting a testimonial for Dr. Stewart Kerr, Please use the form below to do so.
Thanks!
Fields marked (*) are required